black hills wedding officiant
"Love makes your soul crawl out of its hiding place." –Zora Neale Hurston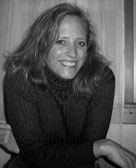 If you are looking for a wedding officiant
in the Rapid City or Black Hills area, I would love to be the one. I can travel to your site, or you simply come out here to the Stratobowl. Once I understand your story and your vision, I will pull together all of the little things that make your relationship special and create a wedding ceremony that is yours.
It might be the story of how your car got a flat tire on your first date, or how you may have finally found your life's friend. You may already be blessed with a child and want to make public what is already true in your hearts. I don't now what your love story is, but I do know that it belongs to you and your wedding should reflect that story. I would be privileged to be a part of your special day. For more information, or if I can help, please contact me.
Whether you are planning a large or a small wedding, I can help. Whether here, alongside Spring Creek, in a local park or on top of Harney Peak, I can assist in making it a memorable and beautiful ceremony and provide ideas and ceremony examples from which to choose.
Process
Meeting
Writing Ceremony
Email back and forth
Rehearsal
Ceremony
License
Obtain a license at county courthouse within 20 days of wedding ($40 fee and two forms of ID). I take license back to courthouse after ceremony.
Cost
See our "Price List". This includes initial meeting, and writing time. It does not include mileage (.30 per mile) to and from rehearsal and ceremony.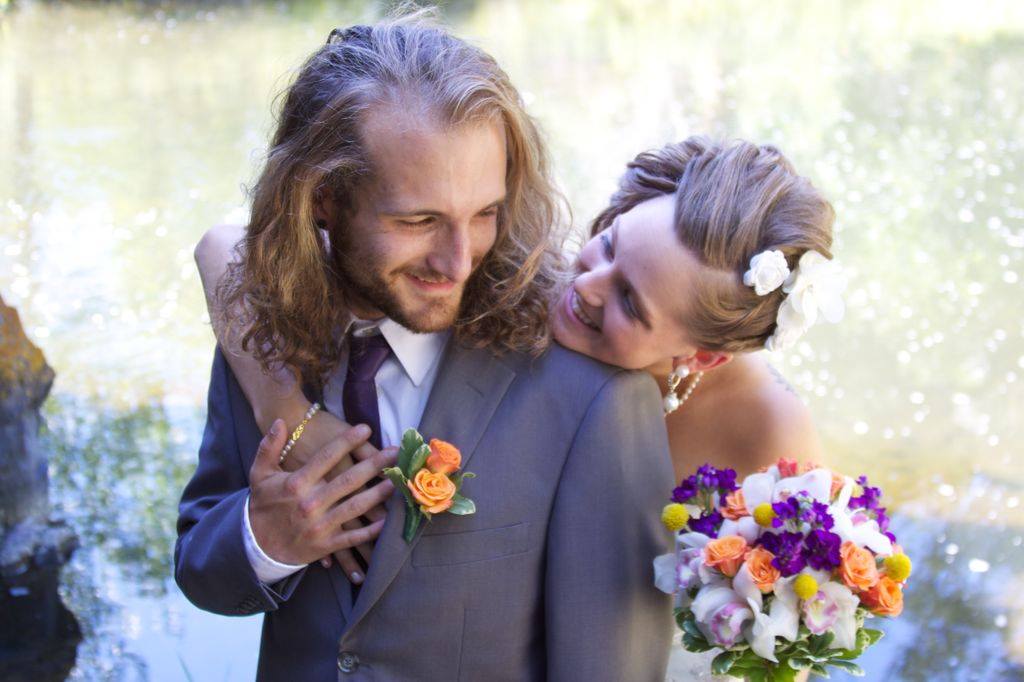 August 2013 wedding bride wrote:
"We have had nothing but rave reviews from our friends and family
. Still, over a month later, people are telling us how 'blown away,' they were by the beauty and intimacy of the location!"
Located 11 miles southwest of Rapid City at the bottom of the HISTORIC STRATOBOWL, this one of the most pristine locations in the Black Hills. If you are thinking of a small ceremony with family and friends (20 people or less), consider the Stratobowl.
Apache Wedding Blessing

Now you will feel no rain, for each of you will be the shelter for each other. Now you will feel no cold, for each of you will be warmth for the other. Now you are two persons, but there is only one life before you. Go now to your dwelling to enter into the days of your life together. And may your days be good and long upon the earth.
A popular choice, we also offer a Stratobowl Creekside or indoor ceremony, officiant services and witnesses if needed. No hassles, no fuss, no worries! Simple and stress free! Limited to 20 guests. Call for appointment.
Combining your wedding with a vacation or "getaway" in the Black Hills?
If so, consider doing it all right here - your wedding ceremony and a great place to stay - in the beautiful Stratobowl, near Rapid City, SD. For more information on the area and the vacation homes, visit us on
Stratobowl.com
, the
"Creekside" House
or the
"Be" House
.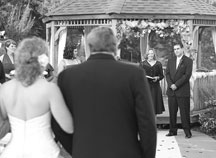 "Our first meeting with Cory let us know right away that we made the right choice. We met her at an Oriental restaurant in Rapid City so she could get to know the both of us.
She found out that we didn't want a traditional wedding ceremony and took what she gathered from that lunch and turned it into a magical ceremony. On top of serving as the officiant, she wrote the wedding vows. We're both writers and she knocked our socks off with what she came up with. We couldn't have written them any better. And she got my wife to mention the Denver Broncos in our wedding vows, how cool is that? Cory was a dream come true. The vows she wrote for us, the way she carried herself through the rehearsal and the day of the wedding and the truly unique ceremony she came up with was more than we ever dreamed.
Her personality is what two people need on a wedding day. Easy-going, rolls with the punches, kind, always has a smile on her face and oh-so-calm like a summer breeze. She knows how stressful a wedding is, but she did her best to keep us calm and composed.
She also has a great sense of humor, which was a great asset for two people who wanted a ceremony that would make people chuckle. When we look back on that day on Sept. 4, 2010, we owe so much to Cory for how memorable and special that day was for both of us. And did I mention she got my wife to mention the Denver Broncos in our vows? "
Angela & Ian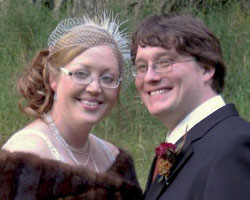 "I have known Cory for more than a decade as a teacher, a musician and friend. It seemed to be kismet, then, that she should officiate and perform at my wedding.
My wife and I met with her three months prior for a couple's interview and to discuss our aims, go over themes and for all of us to acquaint (or reacquaint) ourselves.
From this meeting, Cory was able build a thorough draft ceremony and write an incredibly beautiful, personal song, with exceptional guitar accompaniment from her husband, Ken.
The rehearsal and ceremony were flawless. All those gathered cried and laughed together. It was our day, but Cory brought it to life for us, guided us through it and, selflessly, made it perfect.
As to the business oriented aspect of things: Cory was very accommodating with our ceremony notes, quick to respond via phone or email when meeting face to face was not an option and clearly and cleanly laid out the the entire process from the outset.
I cannot conceive of anyone being more ideally suited to have officiated our wedding. I certainly don't plan on getting married again, but when the time comes for vow renewals, I know where I will look."
Neil Robinson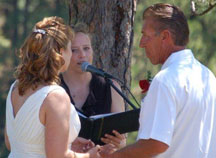 Tim & I want to thank you so much for making our wedding day so special. We both appreciated all the options & the guidance you gave to make the day even more "US". The ceremony seemed so personal & was made even more special the way you integrated things that related to our children, family & friends (for example-Colonial House & The Hands Story). Several of our friends & family said that they truly took to heart the message that was given that seemed not only to be for Tim & I but anyone considering marriage, newly married or has some years behind them. Cory, I also am so grateful for the way you were able to make everything so smooth throughout & getting everyone focused when they needed to be. Our goal was to keep things relaxed & reflective of our life together and you had an innate sense of how to achieve this.
Two of my good friends & neighbors said that they cried when Tim & I gave bracelets to our children. Words cannot express our gratitude for that part of the ceremony because all a person need do is look at each of our kids' faces & see how much those tokens meant to them. I think you have a very special understanding of the all the intricacies that are involved in second marriages. May you have happiness, and may you find it making one another happy.
May you have love, and may you find it loving one another. These words that you left us I keep in my heart.

Forever grateful, Tim & Shellee Sandmeier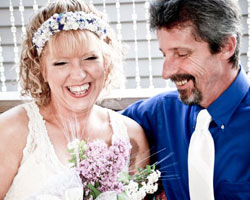 There is such a huge difference between a traditional wedding ceremony and a magical dream come true event that you and your loved ones will remember all of your life. Imagine a wedding where everything you believe and everything you cherish is incorporated into the ceremony to completely honor all aspects of your personality as a couple. A wedding ceremony unlike any other ceremony ever performed; a celebration of your uniqueness as a couple.
"So many people who came to our wedding said it was the most beautiful wedding they had ever been to. We had a vision that defined who we are. We did not want a traditional religious wedding. Our vision was of spirituality and oneness. We met with Cory and tried to draw a mental picture of our vision. I would start a sentence, not exactly knowing where I was going with it and she would end the sentence. It was as if she was seeing through my eyes, feeling through my mind. Every partial vision I had became a work of art in Cory's manifestation process. I had a list of elements that I wanted included and Cory wrote our ceremony encompassing every element I had envisioned. The ceremony was magical and beautiful.
We have both been married before and are in our late 40s. We have been together as a family for 12 years. We have six adult children. Cory's ceremony gave each of our children a beautiful role to play in our wedding. We both have deceased parents and Cory's ceremony included them and made sure their spirits were honored at our wedding.
After the wedding, people were in awe of Cory's magic. They are still talking about it. Asking me how I found someone who could so completely know who we are, and bring that to life. Cory is not just an officiant. She is a poet and an artist who sees the beauty deep inside of you and brings it to life in your own personal celebration of your lives together."
Amy Laun